Kitchens
Baths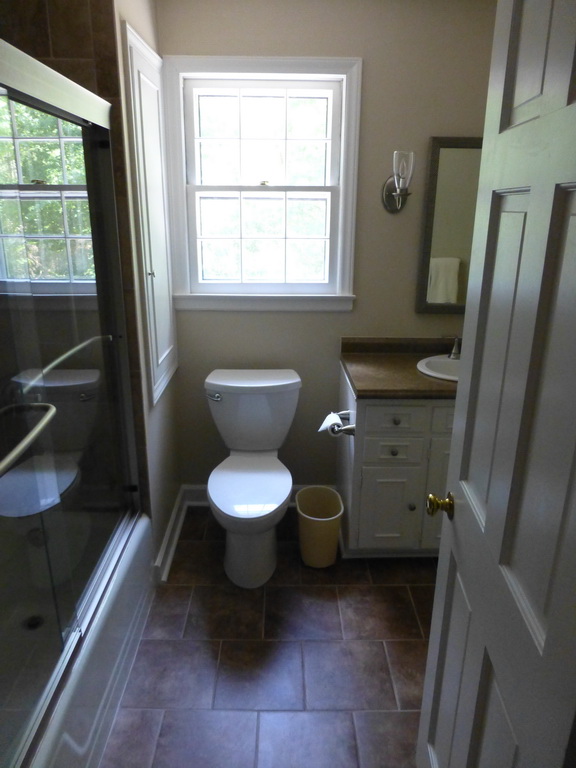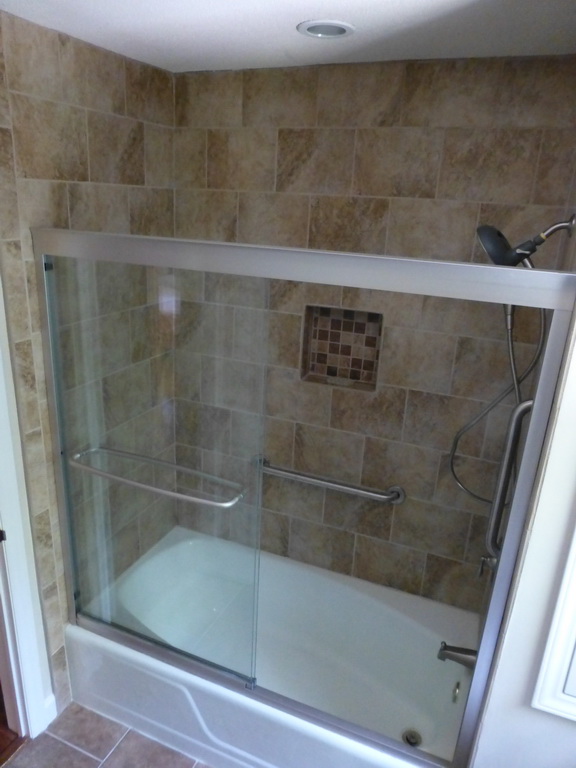 Cabinetry and Built Ins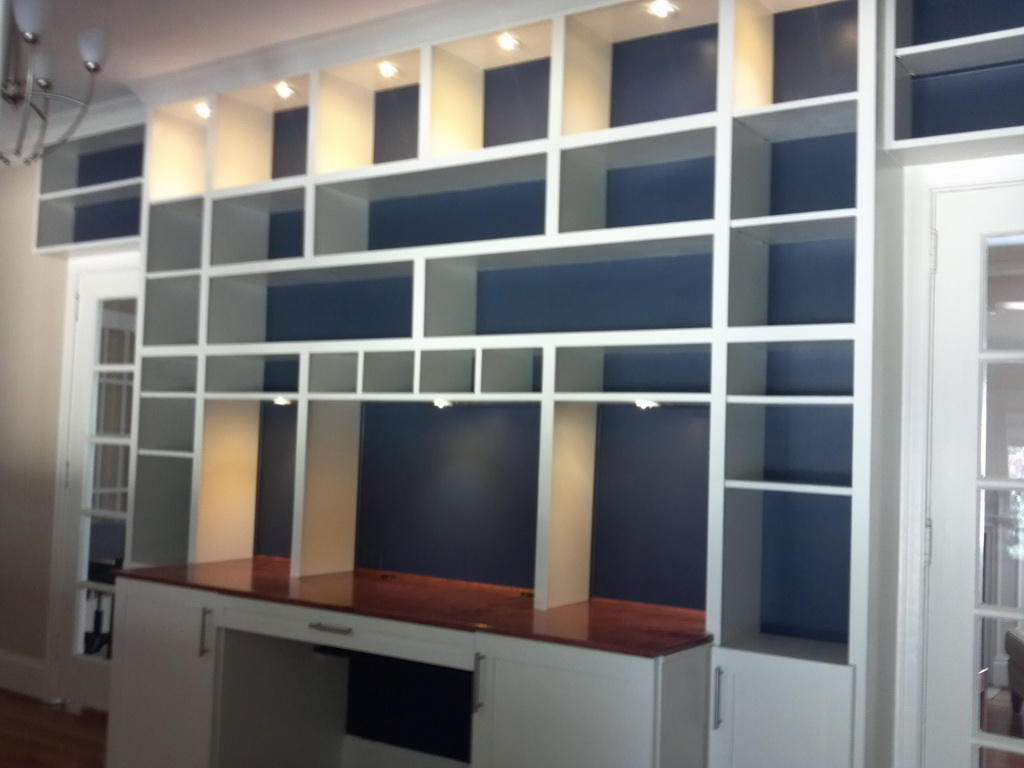 This customer had a very specific design in mind for every square inch of this built in. We helped them lay the design out on the wall, then proceeded to create it for them from raw materials.
Flooring
Decks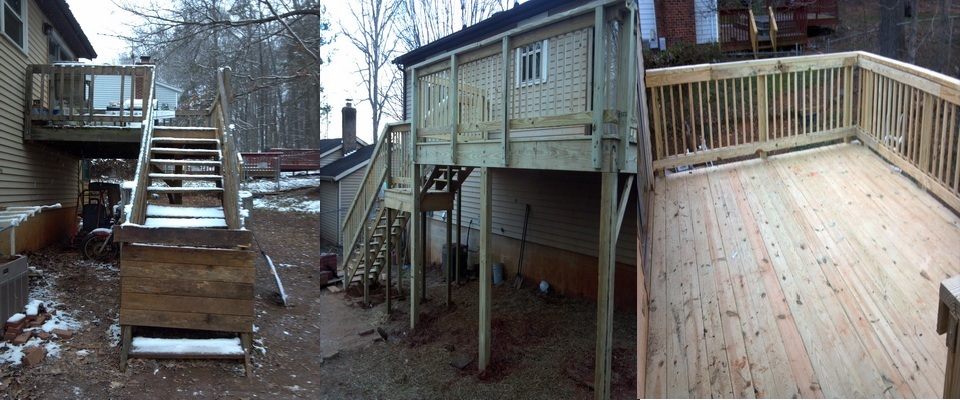 This deck was in such bad shape the homeowner had to block it off. When we started demo, it literally fell over with a simple push of the hand. Now they have a strong sturdy code++ deck that will last for years and years.
Complete Bath Remodel
This shower stall had a leak. The original installer cut the pan liner instead of folding it over the curb. Through the years it created a lot of moisture related problems. So we removed it entirely and rebuilt it from scratch.
Wallpaper
Removing 35 year old wallpaper without destroying the underlying drywall requires a good deal of patience and skill, but is well worth the effort.
Leak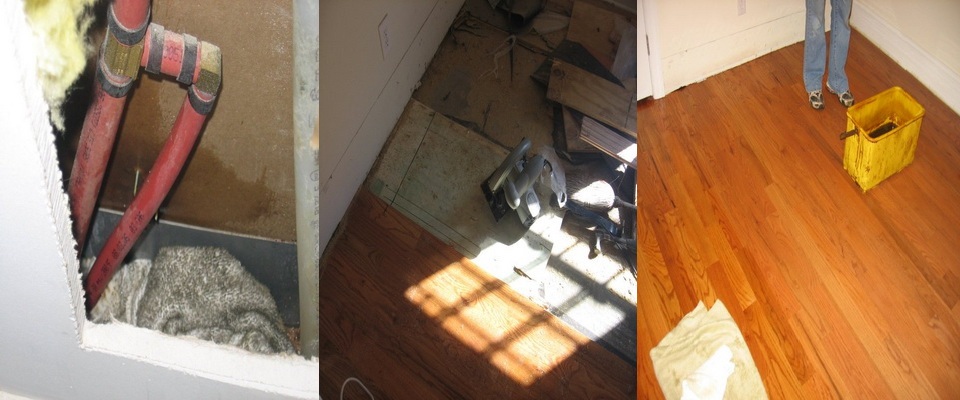 In the original construction of this house the trim carpenters shot a nail to high and it went into the pex plumbing, resulting into a slow drip leak. It took over a year before the customer noticed the hardwoods warping with dampness. The builder hired us to find out what was going and repair it.
Wainscoting
A bit of custom trim carpentry can transform an entry room from boring to elegant is short order.
Misc Items
When repairing a leak a "plumber" by passed the pressure relief valve in this house, they kept blowing out water heaters and washing machines, we re-repaired the leak and no more problems. A loose connection on an outlet caused problems for years for this customer. It took a while but we found the problem, and fixed it. An inexpensive and creative solution to drafty attic stairs.
We do Handyman & Small Jobs
Along with full remodels and larger projects we love handyman work, honey do lists and small jobs as our schedule allows: Repair/replace faucets, water heaters, toilets, outlets, switches, dimmers, painting, locks, ceiling fans, doors, windows, disposals etc.
Testimonials
"Vince came recommended to us as a "detail-oriented person who would not leave until it was perfect." They were right. He replaced damaged ceramic floor tiles and did it so perfectly, you cannot tell a difference at all. Looks like all original work. Hire this guy!" --

Julie Hall
---
"Vincent installed over 1,200 square feet of hardwood flooring in our home. He is very meticulous in his work and made sure we were very happy via daily updates throughout the entire process. We've hired Vincent for several other jobs based on his high quality of work."
Cotswold area homeowner
---
"I highly recommend Vincent's work. I plan to continue using his services in the future. He spent my money like it was his. I feel certain that he saved me hundreds of dollars on the extensive remodeling work he recently finished on property I had for sale. His focus was on saving me money not running up his tab. He completed the work quickly and perfectly. Vincent is a man you can trust!"
Bob
---
"Vincent is meticulous about his work, understands so much about what he is doing because of his general contracting experience and is very honest and trustworthy. He knows how to "manage" clients and he's reasonably priced. Can't say enough good things about him. I'd recommend him to everyone, as long as he still keeps enough time set aside for my clients!"
Helen Sztarkman, Managing Broker/REALTOR ABRR SRESR Sharonview Realty
---
"I'd hire Vince again in a heartbeat, he showed up, did a great job, and charged a fair rate!!!"
Valerie, Investor
---
"Vincent, From me and all the referral clients I have sent to you, "you're the best". The work is thorough, detailed, complete, top notch & priced fairly. Your dedication, commitment & business ethics are also above the crowd."

Michael Polak, Broker/REALTOR , Eileen Polak, Closing Coordinator, Research Weichert Realtors, Rebhan & Associates